Medical Fabric Wholesale
Views:7 Author:Site Editor Publish Time: 2018-12-04 Origin:Site
The main characteristics of medical fabrics?

1. Breathability Breathability is the performance that regulates the comfort of the human body and is closely related to human health. The strength of the air permeability depends on the density, thickness and surface shape of the fabric. It should be carefully selected according to the design intent.we are medical fabric wholesale.
2, softness The softness of the fabric of medical clothing refers to the softness of the material, which has a certain impact on people's psychology and physiology. The softness is directly related to the thickness of the fiber and the softness and hardness of the texture. The softer the fabric selected, the more comfortable the finished medical garment will be.
3, hygroscopicity Hygroscopicity is one of the basic performance essential for medical apparel fabrics. Good moisture absorption makes people feel comfortable when wearing, and absorbs the sweat discharged from the body in time to adjust body temperature. From the perspective of the organizational structure of medical apparel fabrics, knitted fabrics have better moisture absorption properties than woven materials.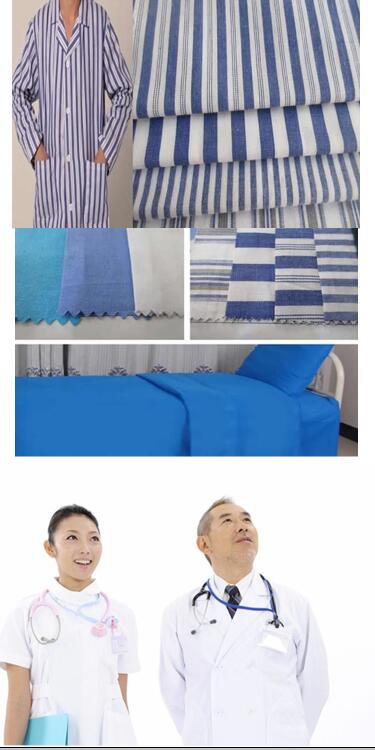 Common medical fabrics:
Polyester cotton fabric
Polyester/cotton fabric is a fabric blended with polyester and cotton. Polyester cotton has the characteristics of quick drying, durability, easy to dry and clean, and many fabrics are now available in many medical clothing. Today's polyester-cotton fabrics have a wide range of polyester and cotton blending. If you need a sweat-absorbent and breathable medical garment, you can choose a fabric with a higher cotton content. If the requirements for washing and abrasion resistance and easy cleaning are high, a garment with a higher polyester fiber content can be selected.
Cotton fabrics
Cotton fabric refers to fabrics made from cotton. In general, cotton fabrics have good moisture absorption and heat resistance, and are comfortable to wear. Some inner garments, surgical gowns and ward beddings use pure cotton fabrics.
Anti-static fabric
Anti-static fabric is a special processing fabric. In general, anti-static fabrics, such as operating rooms, are used in medical clothing where the control of electricity at the workplace is more stringent. Surgical gowns are generally required to be anti-static.